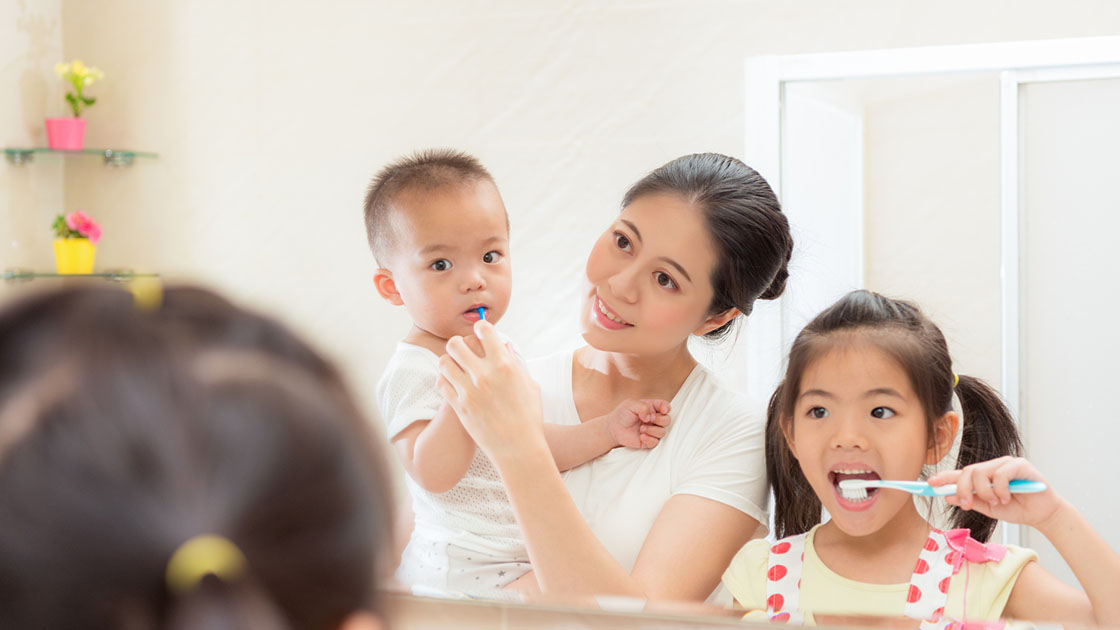 Kids & Teens Dental Place provides dentistry for infants in Pearland, Texas. Call
713-413-8282
or
contact us
today to learn more and schedule an appointment.
What Is Infant Dentistry?
Infant dentistry refers to professional dental care that is provided for babies 12 months and younger. The American Academy of Pediatrics (AAP), the American Dental Association (ADA), and the American Academy of Pediatric Dentistry (AAPD) all recommend that children have their first dental visit by 12 months of age, or within 6 months of the eruption of the first tooth, whichever comes first.
Benefits of Infant Dentistry
There are many benefits to professional dental care for babies:
Early detection of oral health issues. A variety of oral health issues can begin in infancy. If there are any issues present, infant dentistry can identify them so that treatment can be provided.
Prevent tooth decay. As soon as a tooth becomes visible above the gums it is susceptible to decay. Infant dentistry keeps teeth clean from the very beginning so that they stay healthy throughout childhood.
Prevent gum disease. Even before there are any teeth visible, gum disease can occur. When the gums are not kept clean, bacteria can accumulate from feedings and eventually infect the gum tissue. Infant dentistry can prevent gum disease before and after the teeth come in.
Establish a dental care routine from a young age. When regular dental care begins in infancy, children become used to the experience as they grow, preventing fear or anxiety from developing regarding dentistry. Children are also more likely to keep up with regular dental care into adulthood due to the establishment of early dental care habits.
Procedures Offered
Dentistry for infants includes the following procedures:
Oral examination. A thorough examination of your baby's teeth and mouth will identify any oral or dental health concerns that need to be addressed.
Dental cleaning. The teeth that are visible will be cleaned to remove any plaque that has accumulated.
Educate parents on proper dental care. We will discuss proper brushing techniques and dental care habits for your baby to help keep their teeth and mouth healthy.
Cavity fillings. If there are cavities present, they can be treated in infancy. The decayed portion of the tooth is removed and composite material is used to fill it.
Frequently Asked Questions About Infant Dentistry
Is it worth it to fill a cavity in a baby tooth?
Even though baby (primary) teeth eventually fall out, they remain in place for many years. A cavity that is left untreated will only worsen and the tooth could develop a painful infection. A simple cavity filling can prevent pain and allow the baby tooth to remain in place until it is ready to be shed naturally.
Why do babies need dental care?
From the time a tooth pops through the gum tissue, it is susceptible to decay. Food particles and bacteria form a sticky substance called plaque that clings to the teeth and will eventually cause decay if not removed. Even infants can develop cavities and gum disease if their teeth are not well cared for.
Is fluoride toothpaste safe for babies?
It was once thought that fluoride was not safe for children under 2. But recent research has shown that a tiny amount of fluoride toothpaste (the size of a grain of rice) is not harmful if swallowed. This means that even babies who are not yet able to spit after brushing can still use fluoride toothpaste. Fluoride is an important mineral that aids in the development of tooth enamel, making it stronger and more resistant to decay.
Is it ok to let my baby keep their bottle in their crib all night?
We recommend feeding your baby and then brushing their teeth or cleaning their gums before putting them to bed without a bottle. Allowing them to have their bottle in their crib can lead to tooth decay as their teeth are repeatedly exposed to the sugar in breastmilk and formula.