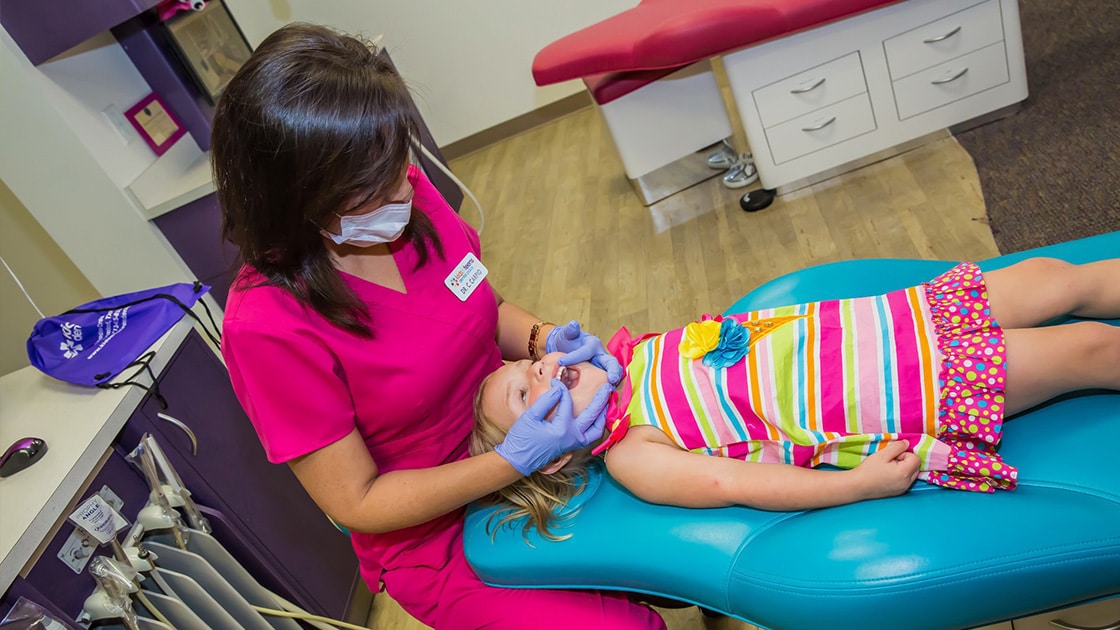 What Is Pediatric Dentistry?
Pediatric dentistry focuses on the diagnosis and treatment of dental and oral health problems that affect children and adolescents. Patients range from infants to teenagers and even young adults in some cases.
Benefits of Pediatric Dentistry
Pediatric dentistry provides a variety of benefits for children and teens:
Kid-friendly environment. Our office is a kid-friendly place with bright colors and fun decor. Kids feel at home here and even look forward to going to the dentist. TV and video games help to pass the time in the waiting room and dental chair, making the whale experience more fun.
Specially trained doctors and staff. Our doctors and staff are trained in pediatric dentistry and have experience working with children. We know how to talk to kids in order to establish positive relationships with young patients and their parents.
Child-sized equipment. Everything from our dental tools to our chairs are made to be child-sized for greater comfort and more effective dental care.
Orthodontic monitoring. Pediatric dentists are trained to look for signs that indicate the need for early orthodontic intervention. We can refer you to an orthodontist if there are any major concerns that need to be addressed before the adolescent years.
Procedures Offered
We provide the following pediatric dental services:
Frequently Asked Questions About Pediatric Dentistry
When should my child have their first dental appointment?
The American Academy of Pediatrics (AAP), the American Dental Association (ADA), and the American Academy of Pediatric Dentistry (AAPD) all agree that babies should have their first dental visit by the time they are 12 months old, or within 6 months of the eruption of their first tooth. Don't worry if your child is already older than one year. It's never too late to start a healthy dental care routine.
At what age is a child ready to brush their teeth without help?
This depends on the individual capabilities of the child. Most toddlers and preschoolers will need assistance with brushing their teeth. By the age of 6 or 7 your child may be capable of brushing effectively, but it is still a good idea to follow up with them and address any areas they may have missed. By the time they are 8 or 9 they should be able to brush independently, but may still need to be reminded to brush and use a 2 minute timer.
What's the difference between a pediatric and a family dental practice?
A family dental practice sees patients of all ages, including children and older adults. A pediatric dental practice only sees children and young adults. Pediatric dental practices tend to be more kid-centered than a family dental practice that will be more age-neutral.
What's the point of filling a cavity in a baby tooth?
This is a common question we get, but even primary (baby) teeth need fillings if they develop cavities. When not addressed, cavities only worsen and may become painful or lead to an infection. Baby teeth are also important placeholders for the permanent teeth. A simple filling can prevent any problems until the tooth is ready to come out naturally.