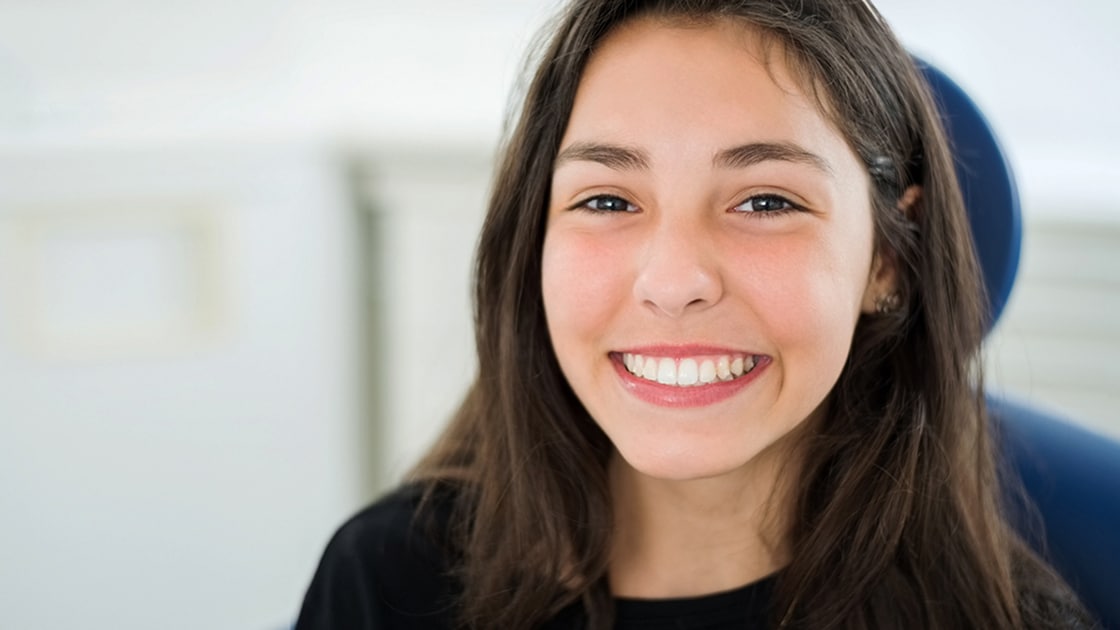 Kids & Teens Dental Place provides pediatric dentistry in Houston and Pearland, TX. Call 713-413-8282 or contact us today to learn more and schedule an appointment.
What Is Adolescent Dentistry?
Adolescent dentistry is dental care that specifically addresses the needs of older children and teenagers. The age range for adolescents is typically considered to be 10-19. By this age most or all of the primary teeth have been shed and the permanent teeth have come in. This is also the most common age for orthodontic treatment, which can have a significant impact on dental and oral health.
Benefits of Adolescent Dentistry
Regular dental care during adolescence offers many benefits:
Prevent tooth decay. You only get one set of permanent teeth, and by adolescence most of the permanent teeth are in place. Regular dental care during the adolescent years can protect your permanent teeth and prevent decay so that your teeth will be healthy into adulthood.
Prevent gum disease. Gum disease is an infection of the gum tissue caused by plaque buildup on the teeth. Regular dental care removes plaque before it can lead to infection. Healthy gums provide adequate support for your teeth.
Early detection and treatment. Routine dental appointments always include a thorough oral examination to look for any potential problems or abnormalities. If anything is discovered that requires treatment, the earlier the better.
Orthodontic monitoring. We also monitor orthodontic issues as we provide dental care. If there is crowding, bite misalignment, or other problems we can recommend orthodontic care and provide a referral. Braces can increase the risk of tooth decay. If a patient has braces we can clean their teeth around the brackets and wires. Good oral hygiene habits at home and regular visits to your dentist are more important than ever.
Procedures Offered
We offer the following services for adolescents:
Oral examination. We perform an oral examination at every routine dental appointment to look for any potential dental or oral health problems that need to be addressed.
Dental cleanings. Teeth cleanings are a part of preventive dental care to remove plaque from the teeth and prevent decay and gum disease.
Restorative procedures. Cavity fillings, root canals, and other procedures can be done to repair or replace damaged teeth.
Cosmetic procedures. The purpose of cosmetic dentistry is to improve the appearance of the teeth. Procedures like teeth whitening, cosmetic bonding, and more can improve your smile.
Emergency dentistry. Dental injuries and emergencies can occur at all hours. We provide emergency care as needed both during and after office hours.
Sedation. Some patients can benefit from relaxation assistance. We offer a variety of sedation options to meet the needs of our patients.
Special needs dentistry. We are glad to accommodate children and teens who have special physical, neurological, and emotional conditions that require individualized care.
FAQs About Dentistry for Adolescents
At what age should patients transition to adult dentistry?
There is no set age where we stop treating young patients. Most patients decide when they are ready to transition to an adult dental practice. Patients with special needs may continue to see us into adulthood if the stress of changing practices is too much.
Should my child/teen wear a mouthguard for sports?
We recommend wearing a mouthguard to protect the teeth from injury during any sport. High contact sports, such as football, will typically require a mouth guard. But even lower contact sports can result in dental injuries. We can create a custom mouthguard that will fit more comfortably and protect the teeth more effectively than store bought mouthguards.
Can my child have a dental cleaning with braces on?
Not only is it possible to have a dental cleaning with braces on, it is more important than ever during orthodontic treatment. Brackets and wires on the teeth, as well as clear aligners, can increase the risk of tooth decay and gum disease as there are more places for food and plaque to gather. We highly recommend that you continue coming in for regular cleanings while under orthodontic care.
Why are tooth extractions needed?
A tooth that is too damaged or decayed to be saved may need to be extracted. Orthodontists may also recommend that primary or permanent teeth be pulled to alleviate crowding. We provide tooth extraction only when necessary, as our goal is to save teeth whenever possible.